About Sawdust charcoal
Over decades, charcoal has been a widely used source of fuel. It is one of the main fuel product used both for industrial and residential use. Its advantages include being odor free as well as smokeless; and thus being a common fuel for the outdoor cooking. It has a long-lasting energy effect and can be used in industries making metals such as steel.
Natural charcoal is made from burning materials rich in carbon in an atmosphere with limited oxygen. Burning in a low oxygen atmosphere helps to remove any moisture, making the charcoal lighter and remove the volatile gases from the wood, ensuring that the resulting charcoal has a longer burning effect.
However, in the recent past, the presence of natural charcoal is diminishing. Its demand has been high while the supply is limited, partly because of diminished forests and the desire to conserve the trees. As a result, machine made charcoal is becoming popular each day. This involves making charcoal briquettes from sawdust, or any other related biomass powder such as straw and stalk. A briquette is defined as a block of compressed sawdust that can be used as a fuel product. Its production involves adding a binding material to the dust then applying high pressure and high temperatures.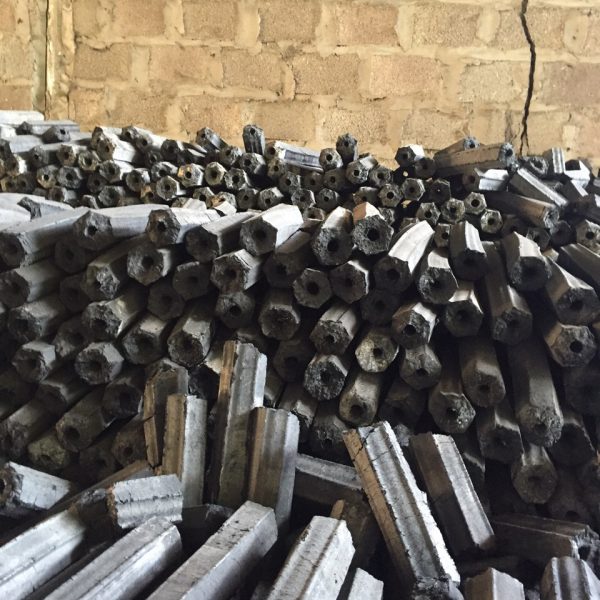 How to Make Charcoal Briquettes from Saw Dust
Saw dust in the main raw material here, whose size should be below 1 cm and a moisture content of less than 12 percent to guarantee a larger productivity. Other requirements include a biomass briquette machine, a carbonization furnace, a crusher and a dryer
Steps in making charcoal briquettes
First, pass the sawdust into a crusher to crush them into about 5-millimeter size. Then pass the crushed materials through a large drum dryer to reduce its moisture content. It should be dried to a moisture content of between 8 to 12 percent. Once you have the materials dried, feed the sawdust into the biomass briquette machine by pressing it inside the machine.
Compress the Biomass briquette machine under high pressure and temperatures in a process known as briquetting. During this process there is self-bonding which involves thermoplastic flow of the biomass. Lignin content is formed naturally inside the biomass machine due to high pressure and temperatures, and it is liberated. It serves as glue, binding and compressing the biomass to form high-density briquettes.
While inside the biomass briquette machine, the materials being briquetted are stirred by a center shaft inside the machine to ensure a uniform combustion. Once the biomass has been briquetted, they are placed into the carbonization furnace. This will carbonize them to the machine made charcoal briquette. In the carbonization furnace, minor ingredients such as starch binder are included where they are blended together with the materials.After blending, drop the material into a press machine that makes them into sizes. It is then taken to a conveyor machine where the material is heated under high temperatures to reduce its moisture content to less than 5 %. The charcoal briquettes are ready and can be stored. The charcoal will be of high density and a high heat value. Furthermore, just like the natural charcoal, it will be smokeless and odor free. The charcoal briquette is an environmental friendly product because it does not pollute the environment.
See more sawdust-charcoal